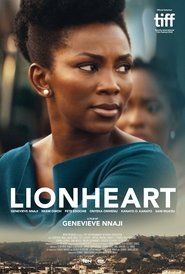 Lionheart
In order to save her father's ailing bus company, competent but perennially overlooked Adaeze must find a way to work alongside feckless uncle Godswill.
Duration: 95 min
Release: 2018
The Wolfman
The Legend of Barney Thomson
Blood Games
Georgy Girl
Georgy Girl
Georgy has resigned herself to being one of life's accidents. She disapproves somewhat of her father's butlering James Leamington. She's tall, plump, sloppy and wistfully envious of what she conceives…
Fuzz
The Youth
The Youth
This omnibus film takes a unique approach to the experience of youngsters.
Walking Out
Croupier
Boyz n the Hood
Boyz n the Hood
Boyz n the Hood is the popular and successful film and social criticism from John Singleton about the conditions in South Central Los Angeles where teenagers are involved in gun…
The Corpse of Anna Fritz
The Corpse of Anna Fritz
Anna Fritz is a beautiful and famous actress. Suddenly her body is found in a hotel and the news of her death goes around the planet. The young, shy caretaker…
Eye of the Needle
Buddha's Little Finger