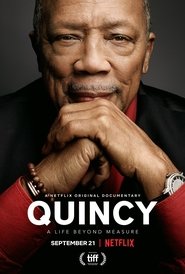 Quincy
An intimate look into the life of icon Quincy Jones. A unique force in music and popular culture for 70 years, Jones has transcended racial and cultural boundaries; his story is inextricably woven into the fabric of America.
Duration: N/A
Release: 2018
Wizard Mode
Wizard Mode
Mastering classic pinball arcade games requires focus, agility and dedication. Robert Gagno has all these traits. It might explain why he surged from a complete unknown to one of the…
Finding Fela
Finding Fela
Fela Anikulapo Kuti created the musical movement Afrobeat and used it as a political forum to oppose the Nigerian dictatorship and advocate for the rights of oppressed people. This is…
Justin Bieber's Believe
Justin Bieber's Believe
A backstage and on-stage look at Justin Bieber during his rise to super stardom.
Baltimore Rising
Baltimore Rising
In the wake of Freddie Gray's death in police custody, peaceful protests and destructive riots erupted as the city awaited the fate of six police officers involved in the incident….
Inside Job
Inside Job
A film that exposes the shocking truth behind the economic crisis of 2008. The global financial meltdown, at a cost of over $20 trillion, resulted in millions of people losing…
The Winding Stream
The Winding Stream
The story of the American music dynasty, the Carters and Cashes, and their decades-long influence on popular music.
Searching for Sugar Man
Searching for Sugar Man
Two South Africans set out to discover what happened to their unlikely musical hero, the mysterious 1970s rock 'n' roller, Rodriguez. The film won Best Documentary at the 85th Academy…
African Cats
African Cats
African Cats captures the real-life love, humor and determination of the majestic kings of the savanna. The story features Mara, an endearing lion cub who strives to grow up with…
Codebreaker
Codebreaker
Alan Turing is the genius British mathematician who was instrumental in breaking the German naval Enigma Code during World War II, arguably saving millions of lives. Turing's achievements went unrecognised…
For the Love of Spock
For the Love of Spock
A documentary film about the life of Star Trek's Mr. Spock as well as that of Leonard Nimoy, the actor who played Mr. Spock for almost fifty years, written and…
Burn the Ships
Burn the Ships
The NPF, a women's professional softball league that few know exists, has spent decades struggling for survival in a male-dominated sports world. Its players are forced to choose between their…
From the Ashes
From the Ashes
Capturing Americans in communities across the country as they wrestle with the legacy of the coal industry and what its future should be under the Trump Administration. From Appalachia to…