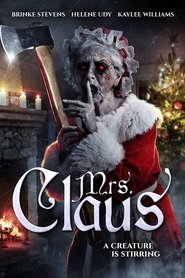 Stirring
Students attending a Christmas party at a sorority house with a sinister past are stalked by a bloodthirsty killer disguised as Mrs. Claus.
Duration: N/A
Release: 2018
Grabbers
Grabbers
Something sinister has come to the shores of Erin Island, unbeknownst to the quaint population of this sleepy fishing village resting somewhere off Ireland's coast. First, some fishermen go missing….
Curtains
Repo! The Genetic Opera
Repo! The Genetic Opera
A worldwide epidemic encourages a bio-tech company to launch an organ-financing program similar in nature to a standard car loan. The repossession clause is a killer, however.
Freshwater
Freshwater
A new take on the classic story of a group of twenty-something kids' weekend of terror at the lake house.
The Resurrected
The Resurrected
Charles Dexter Ward's wife enlists the help of a private detective to find out what her husband is up to in a remote cabin owned by his family for centuries….
Daddy's Little Girl
Daddy's Little Girl
After the police find Derek's daughter brutally murdered on the beach, he vows to make the culprit suffer for his actions, even if that person is 'part of the family.'…
Meatball Machine Kodoku
Meatball Machine Kodoku
Nobody knows where they came from. They parasitize in human beings, take control of them and change their bodies into hideous monsters (Necro-borg). The Necro-borg fight each other until the…
V/H/S
V/H/S
When a group of misfits is hired by an unknown third party to burglarize a desolate house and acquire a rare VHS tape, they discover more found footage than they…
The Last Horror Film
The Last Horror Film
A New York taxi driver stalks a beautiful actress attending the Cannes Film Festival, which coincides with a series of violent killings of the lady's friends.
Track of the Moon Beast
Track of the Moon Beast
Professor "Johnny Longbow" Salina, a man who really knows his stews, introduces Paul Carlson to the practical-joking Kathy Nolan. Paul and Kathy seem to hit it off rather well but,…
Trick or Treats
Trick or Treats
A baby sitter is stuck watching over a young brat on Halloween night who keeps playing vicious pranks on her. To add to her trouble the boy's deranged father has…
Wait Until Dark
Wait Until Dark
After a flight back home, Sam Hendrix returns with a doll he innocently acquired along the way. As it turns out, the doll is actually stuffed with heroin, and a…